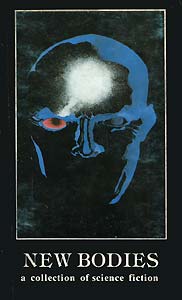 ISBN 0-920540-10-4
New Bodies-- a Collection of Science Fiction
Nine science fiction short stories. Introduction by Lorne Gould, stories by: Philip Jackson, Robert Priest, Ursula Pflug, Penney Kome, Patrick McGrath, Kevin Jamieson, Allan Goldstein, D.T. Sharma and J. Kit Miller.


Dynamic outer space visions from the minds of nine
travelers on their maiden mission into inner space.
From the deep recesses of future history to the exotic
shores of other worlds, we bring you new ideas not
only from the stars, but also from unknown dimensions
within ourselves.